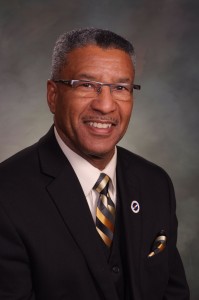 Exum's Wildfire Mitigation Bill Passes House
(April 7) – The House gave bipartisan approval today to a bill to encourage Coloradans to reduce the threat that their homes will be destroyed by wildfire.
HB14-1009, sponsored by Rep. Tony Exum (D-Colorado Springs), increases incentives for property owners to undertake fire mitigation efforts in the so-called wildland-urban interface, where our wild areas intermingle with Colorado's growing communities. The bill eliminates the wildfire mitigation income tax deduction, which only knocks a few hundred dollars off a tax bill, and replaces it with a wildfire mitigation state income tax credit of up to $2,500.
The credit will equal 50 percent of the costs a taxpayer incurs performing wildfire mitigation on his or her property in a wildland-urban interface zone.
"Our goal is to make our communities safer, and to make them safer for our firefighters," Rep. Exum said. "I'm hoping the increased incentives will encourage many property owners in the Pikes Peak Region and across Colorado to be more proactive about reducing the chance that they will lose their homes to a future wildfire."
Rep. Exum's bill was endorsed by the bipartisan Wildfire Matters Review Committee, of which he is a member, and is a priority in helping Colorado make the fullest possible recovery from the flood and fire disasters that struck the state in 2013.
The House's 52-12 vote sent the bill to the Senate.